July 4.  Angels in the Attic store will be open Saturday, July 4th, maintaining its usual hours to serve the community as well as visitors. Volunteers are giving part of their holiday for charitable purposes, so by stopping in to the store, you can show your appreciation.
New Angel Figure.  The next time you are walking by Angels Boutique during open hours, take a look at the remodeled and restored 4 ft tall wooden angel at the entrance, thanks to a local artistan who volunteered her services.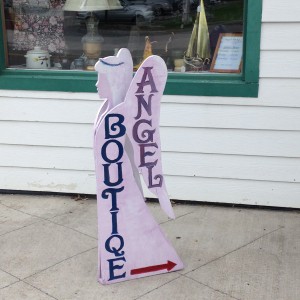 Need Doll Restorer. Would you like to restore antique dolls? Angels needs a volunteer to apply their skills, with flexible hours. You can phone during open hours, come in to the store, or email us (see Contact Us section of this website)
Vouchers. As of July 1, vouchers for Angels in the Attic purchases will be available only at New River Community Action, for people who qualify. The Department of Social Services will no longer be handling this process as of that date. This change will streamline the process.