FOR SALE IN THE ATTIC.
Only one very large painting left. $20. Title is Pine Bough. 54 1/2 by 43 1/2. Label says James W Harris, handpainted Gouache on varnished canvas.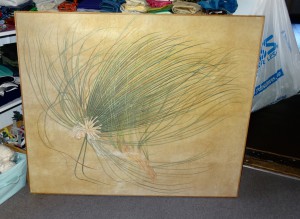 SEE AT ANGELS BOUTIQUE
Interchangeable hearts necklace only $12.
A different stone for every outfit you have.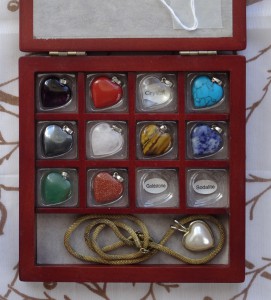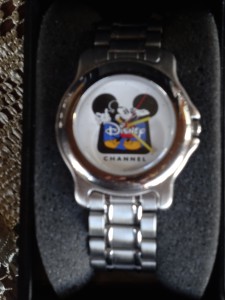 MICKEY MOUSE WATCH only $15.
See it at the Angel's Boutique.
Sorry the photo is a bit out of focus, because the autofocus on the camera is fooled by the case. On the watch, the Mickey Mouse is perfectly clear. Even if you are running late to meet up with someone, this may bring a smile to your face.
AT THE ANGEL'S BOUTIQUE
All the items on this shelving unit are available for your inspection.The collectible LLADRO mantle clock is a 1989 porcelain 5in x 5in x 2in, off-white & pale blue from Spain #5654 for only $25 which is way below value if you check with eBay or other sources.
The brass partridge is quite heavy yet only $6. Various plates are $6 and up.