OIL PAINTING AT THE BOUTIQUE
This well crafted oil painting is displayed in an elegant frame in nice condition. Only $13. If you think it is underpriced, you can pay more – since the price goes toward charities at Angels. The size is (roughly) 18×24 in.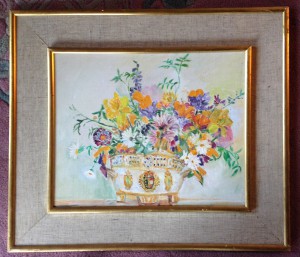 UPSCALE MEN'S SHOES AT THE BOUTIQUE
Priced at only $15 per pair, there are several pair that seem to be of expensive brands. The size appears to be roughly 10-11 but come in and try them on. Only a sampling is pictured below. They show only light wear.